I Make Money Blogging
That's right, I had a blog site that I worked on, built up and then sold for $12,850 on Flippa:
That website was also bringing in a few thousand dollars per month for me before I sold it.
It's a blog website I built on WordPress. I followed a strategy I found online and it worked. I was a really a complete newbie at doing that, too. Yes, I knew how to build regular websites then but I didn't really know how to market them, get traffic to them and earn good money from them.
$4,500 from Amazon
Before that, my biggest success online was an Amazon.com affiliate store I set up. It was sort of the "perfect storm" and I got lucky. I had a good, existing domain, I had the right software running that not many people were using and it was during the Christmas shopping season. I earned that $4500 in a month and a half.
I was seeing daily commissions of about $125 or so per day. It was crazy. I couldn't believe it was happening.
$1,000 per Month from Google AdSense
I had another website that had content I didn't create. It was on true autopilot. I set up the website and left it alone. It would see 800 or more visitors per day and the niche I was in had high payouts (medical industry) and I was seeing a steady $1,000 per month for over 12 months with that website. So that's another $12,000 to $15,000 at least.
Besides that website, there has been around $80,o00 I've also earned from AdSense from 2009 until now.
Other, Random Income
I have some other websites I sold on Flippa that total $1,877. Some of those blog websites were on autopilot. I have content that I wrote once that keeps paying out today, month after month. I have had (and still have) some websites that people pay me monthly to have their links on.
You want to diversify your income so that you have multiple ways of earning revenue with the same content. There are lots of affiliate programs to join and you can even create your own products and sell them where you get to keep 100% of the commission.
So… How Does Someone Do This?
I now know the strategy pretty good. Basically you can do it one of two ways:
You choose a niche (topic) that needs good content, write it and rank high instantly. The payouts will be a little lower over the long run… because there's not much competition.
You choose a niche that has higher competition, take a little longer to start ranking since there's more competition but then get a higher payout over time.
And there's actually one more option – a third way:
The middle ground is to pick a topic that's popular but put a spin on it. Choose a sub-niche that's out there but nobody's going after. You'll then start ranking for that sub-niche faster but get high payouts as if you were in the main niche.
Either way, you need to write content that's better than what is out there. That's really the secret sauce if you ask me.
If you're scared about writing content, you can have it written for you but you'll have to pay for it. Still, it's an investment – pay for good content, post it and it'll keep paying you back in the future.
Here's a video going over what I explain here in a little more detail:
---
Get My Book!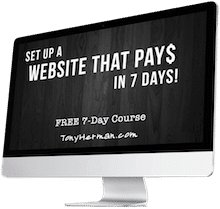 I will show you how to how to make money blogging!
I've laid out how to create a blog and sell it in a course. It's called "Set Up a Website That Pays – in 7 Days!" and I show you, step by step, how to build websites like these.
I go through how to choose a good topic – one you'll be excited about, how to set up your website, how to promote it and how to earn money from it.
More benefits:
Learn how to choose the right topic for your website
Get your website set up so that Google actually likes it!
Have your website up on day 4 (newbie friendly)
Day 5 will blow your mind!
On day 6, you'll learn how you can bring in $2000/month
Master techniques on how to send traffic to your website
Discover how to monetize your website and profit!